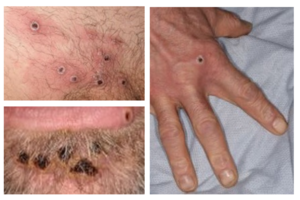 The UK Health Security Agency (UKHSA) has published new details about the outbreak of monkeypox in the UK in an epidemiological update with data up to 30 May.
The current outbreak is the first time that the virus has been passed from person to person in England where travel links to an endemic country have not been identified.
Of 190 confirmed cases identified from 6 to 30 May, 183 were in England, 4 were in Scotland, 2 were in Northern Ireland and 1 was in Wales.
In England, 86% of the cases are in London residents (132 out of 153) and only 2 were women. Most monkeypox cases have occurred in people aged 20 to 49 years old (87%). One hundred and eleven cases are known to be gay, bisexual, or other men who have sex with men (GBMSM).
Recent foreign travel to a number of different countries in Europe within 21 days of symptom onset has been reported by 34 confirmed cases (18%). Investigations to date have identified links to gay bars, saunas and the use of dating apps in the UK and abroad. Investigations continue but currently no single factor or exposure that links the cases has been identified.